In 1986, my life changed forever. In 1986, on a bored Sunday afternoon, my brother and I played nine holes at the Makara Golf Club. I still remember the sheep on the first tee and the feeling as I cracked my ball into the fence on the right. By the end of those nine holes and a vast number of strokes, I was hooked.
My good mate Andrew Watson was an avid golfer and invited me to play at Karori Golf Club a few weeks later. Moving from Makara to Karori was like being asked to play Augusta. Karori Golf Club became my home away from home for the next three years. When I wasn't playing hockey, I was golfing. When I quit school at 17 to train to become a golf coach, I remained at Karori before eventually moving to Gisborne to train under Mark Lavery.
While I opted out of my dream of becoming a golf coach, I kept a love for the game. When working for RecruitAdvantage in Australia, I reconnected with the sport and some of my best days were going out with Jafeth, Damo, and James on the courses around Australia. I have not picked up the clubs since, other than the odd holiday bash. I'm confident, however, with my 50's approaching, golf will once again take centre stage as my leisure activity of choice.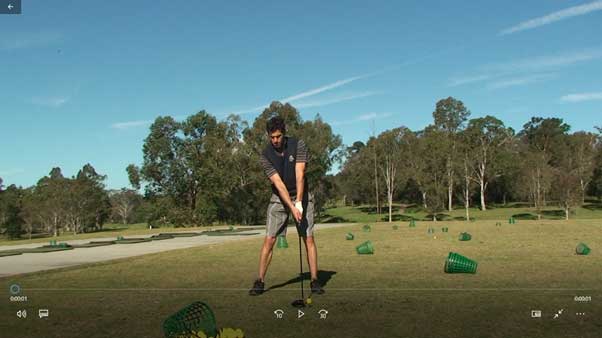 Lesson 1: The competition is against yourself
Golf teaches you very quickly that the competition is against yourself, not against others. You are your own worst enemy, be it the ego that picks a driver when an iron would do, or the ability to deal with anxiety making a clutch putt. Golf is a sport that forces accurate self-reflection, something that is key to self-development.
Lesson 2: Address your weaknesses
Golf is a game that demonstrates the problem with a strength-based approach. Strengths are great, but they don't make for a complete person, manager, or golfer. You must sufficiently develop every area of your game to compete or be proficient in golf.
The same is true in all areas of life. A person cannot merely play to their strengths if their weaknesses are the ultimate barrier to success. Flaws should not be ignored but should be accepted as areas to develop. Relying on your strengths as a way of getting through life is a sure-fire way to become a less well-rounded person and a recipe for the development of character flaws.
Lesson 3: Honesty defines your character
There are two types of people; those that can count and those that cannot. Golf relies on honesty. Unless competing, I was never aware of my partner's shots, nor did I suspect they counted mine. Everyone depends on a shared code of ethics, and the top of that code is honesty. A truism that I have seen in life is what happens on the golf course is replicated in the broader world.
Lesson 4: Is it your passion or is it a game?
Leaving Gisborne and giving up my dream of being a golf coach remains one of the hardest decisions in my life. I remember when my friend, Melanie Simpson, came to stay with me and discussed the classical history she was studying at Samuel Marsden Collegiate School. The stories of my swing developments did not quite seem to compare. I love golf, but at the moment I knew that what I wanted more was to be a well-rounded individual. I missed studying and at that moment decided to try and get a provisional entry into University. I managed to get into psychology and philosophy, and the rest is history (but not classical!)
Lesson 5: the 19th is the hole that counts
Playing with Jafeth at the weekends were some of my most enjoyable times in Australia. The golf was great, the weather was great, and the courses spectacular. But what counted more was the beer at the end of the 18th—cracking open a Hann after the round was more than a reward for the game played. It was a time to connect, talk about our lives, and a time to discuss any worries on our minds. Golf aligns with friendship. Golf is a time and a place to connect. Golf is more than a game; it is a way to get away for an extended period and share quality time with those who know you well.
Golf is a love that I know I will come back to in the not-too-distant future. Of all the games I have played, I know that this is one that will take me into the next stage in my life.
Despite playing golf irregularly, I can still manage to knock the ball around with some consistency. OK, so my short game is pretty lousy, and I'm not going to break any records, but knowing that I can still have a good time is all that matters. Learning golf, as a teenager, was a lucky break that I'm forever thankful. I have the muscle memory to have a base to build upon, at any time that I might need it. I won't be taking home any trophies, but I can still have a good day out on the track.
I know that all the lessons I have learned will steer me in good stead for golfing, and life in my later years. Most importantly, golf is about time with mates, having a shared interest, and time on the course is how I want to spend my next 25 years. Thank you golf for getting me ready for growing up!