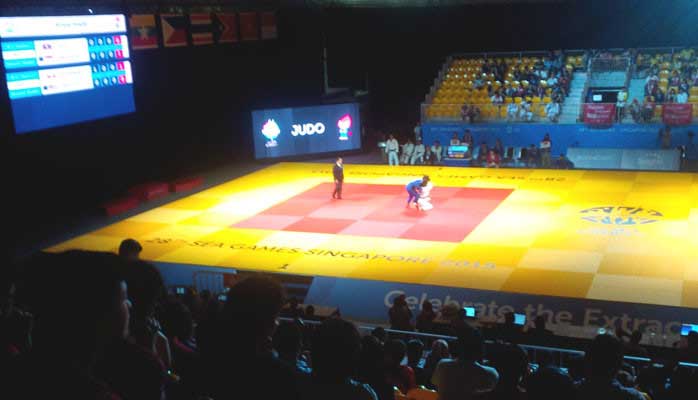 Over the weekend I put on my red shirt and went to support Singapore at the South East Asian (SEA) Games. The crowd at judo (my sport) was truly multinational with everyone from the Philippines to Malaysia having a good contingent of support. While a majority of the crowd were behind the home team, respect was shown to all competitors and there was even a non-official medal team event to create further room to celebrate.
The SEA Games is a unique celebration of diversity given its regional focus. Sure, there are star athletes that add glamour to the event and break records, but the real joy is watching athletes from countries like Laos, Myanmar and Timor Leste battle it out. Where the SEA Games is exceptional is in the stories of some of its competitors, which in the modern world of sport are humbling in the extreme.
Take for example the story of 21-year-old Vy Srey Kouch, a female boxer from Cambodia. The major breadwinner for her family (parents and seven siblings), her breadwinning is to fight for her country. These are not Mayweather type purses that she fights for, but yearly salaries that many of us earn in a month. Or Sonexay Mangkeu, a Laotian Taekwondo practitioner, who lost both parents in a car accident and looks after his younger sister while being his own best mentor.*
In an age of over commercialisation of nearly everything, the SEA Games for me captures the greatness of sport of a bygone era where the playing field was more even. Today, the gap between aspirational and world-class athletes is just too wide the rapid advancement of sport and nutritional science. No longer can one compete on the world-stage prepared with just passion and commitment.
But the athlete stories from the SEA Games tell of sporting courage, balanced with the stark reality of life, and this symbolises what sport is about; personal pride and accomplishment that is achieved as a backdrop to one's life. In my mind, these values are some of the most important lessons that can be applied to life and business:
Aim to accomplish in all areas of life (health, relationships and work) to be truly successful.
Understand your competition and strategize accordingly.
Be humble in defeat and gracious in victory but always compete.
Take it seriously, but at the end of the day remind yourself that you can only do your best and improve.
Never ever ever give up. This is a motto I live by and one that I saw in spades on the tatami's over the weekend!
*You can watch these stories on Channel NewsAsia's 'The Game Plan'.